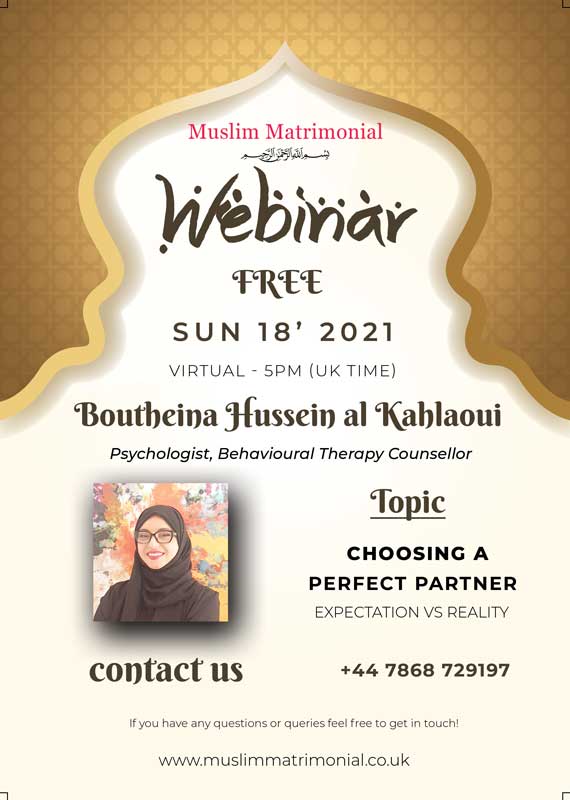 We would like to take the pleasure of inviting you to a FREE WEBINAR – CHOOSING A PERFECT PARTNER: Expectations vs Reality
If you are interested then please fill in the below form. The event is on a first come first serve basis due to limited virtual seats.
Date and time: 



SPEAKER: Boutheina Hussein al Kahlaoui
Topic:  CHOOSING A PERFECT PARTNER: Expectations vs Reality
About the Speaker : 

Boutheina Hussein al Kahlaoui holds a Bachelor's Degree in Psychology and a Master's in Behavioural Science.

Being a psychologist, she has co-founded the Vocational Training Center Knowledge Seeds, dedicated to offering training in counseling, SEN, Inclusion, and Educational Science.
Boutheina is also the Dream Director at Future Learning Lab Dubai.
Her specialties are :
• Family and couple therapy
• Female mental health counselor 
• Cognitive Psychology
• Counseling Psychology
• Developmental Psychology
• Educational Psychology
Boutheina is a firm believer in adopting a spiritual approach to psychology in order to adhere to her Islamic values. Boutheina is fluent in French, English, and  Arabic.
Please fill the below form to register for the event.